John Andrew Pfaffenberger
John Andrew Pfaffenberger (J.A.), the third child of Andrew and Catharine Pfaffenberger, was born in Bavaria in 1829.93 At the age of eight, he migrated to the U. S. with his family and temporarily settled in or near Pittsburgh, Pennsylvania. In 1842, he migrated with his family to Jackson County, Indiana, and settled on a farm his father purchased. Little is known about his early years; however, one could assume that he worked on his father's farm until the 1846 to 1848 time period. During this period John Andrew likely moved into the home of Gilbert B. Durland, a Brownstown Saddler, to learn the leathercraft trades.
In 1850, J.A. was living with the Durland Family and listed his trade as a shoemaker. He apparently continued to practice his trade and save his money. On January 2, 1854, he purchased part of lot 37, in the town of Brownstown from Mr. & Mrs. C. A. Tiench for $111.10.37 The next year on April 19, he purchased the remainder of this lot from John H. Butler for $70.39
Two months after securing lot 37 (June 21, 1855), J.A. married Phoebe B. Vermilya, a 25-year-old lady, from a prominent family of both Hamilton and Brownstown Townships.13 It is probable that J.A and Phoebe met at church. J.A. may well have been raised in the M.E. Church. Phoebe "was converted in very early life. She connected herself with the Methodist Episcopal Church when but a girl and remained a consistent member of the same."13 In 1856, their first child, Evaline (Eva) was born.
J.A. was obviously was a good steward of his money. By 1859, he had saved at least $125 which enabled him to purchase 80 acres along the road that is now S.R. 58, 1 mile east of Norman Station from Lewis and Catharine Ginter.43 Because of the 14 mile distance between Brownstown and the Norman Station property and the fact J. A. never left Brownstown indicates that this was investment property, rather than a move to step into farming. In 1860, he purchased another 40 acres near Acme from Mr. & Mrs. J. G. Reed for $200 (Darker shaded area on map.).43 This parcel was located adjacent to property owned by Phoebe's relatives William B. and Robert W. Vermilya.
Other relatives of J.A. and Phebe report that on May 30, 1859, Phebe gave birth to a son, Charles. It appears that he was either stillborn or died shorty after his birth.
The 1860 U.S. Census reached the Pfaffenberger household on June 2. In addition to J.A., Phoebe and Evaline, a 10 year old girl named Caroline Dryer and a 30 year old Junior Shoemaker, Martin Hagandorff also lived at J.A.'s address.93 On December 14, Phoebe gave birth to their son Theodore. Although it is unknown when he acquired them, J.A. sold lots 151 and 152, Brownstown, to Godferd and Christina Rhendy for $1,000.45
"Official records" provide a glimpse into J.A.'s spiritual life. On October 18, 1861, he was one of the Trustees of the Brownstown Methodist Episcopal Church when the church purchased one half of lot 39, Brownstown.95
During the Civil War years, J.A. and Phoebe continued to have children. Their second son, Wright, was born on March 19, 1863 and their second daughter Viola, was born on August 30, 1865.94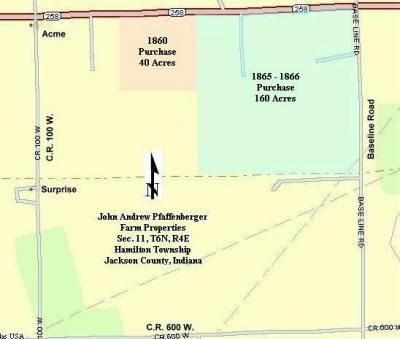 Shortly after the Civil War ended in 1865, J.A. continued his investment in farm property in the Acme-Surprise area. This 160-acre farm may have been Phoebe's Hamilton Township home. The owners were Phebe's two brothers and a sister and her sister's husband. On August 5, 1865, J.A. purchased William B. and Robert W. Vermilya's share of the property and the next summer on June 7, he purchased the William and Agnes B. Ireland's share of this property.(Lightly shaded area on map.) J.A. paid the three joint owners $200 each for this parcel.13, 49, 80
Two months before his death, J.A. made an interesting property transaction. On March 4, 1867, he purchased lots 31 and 32, Brownstown, from Holmes W. Chadwick for $700 and on March 5, he purchased the south part lot 48, Brownstown, from Walter Benton for $2,000. Finally on March 5, he sold lots 31 and 32 to Walter Benton for $750.49
J.A. appeared to live a vital life up to his sudden death on May 14, 1867.13 At the time of his death, Phoebe was pregnant with their daughter Luella, who was born on December 16, 1867.94, 100
With Phoebe's consent, J.A.'s brother, John Pfaffenberger, became the administrator of J.A.'s estate eleven days after J.A.'s death (May 25). The court record shows that John filed a $3,000 bond with the court and named George Pfaffenberger and William F. Borcherding as his sureties.50
At the time of J.A.'s death, the court appointed Wilson S. Swengel, a lawyer, as guardian of the minor Pfaffenberger children. On January 27, 1872, the court appointed Phoebe's brother Wright Vermilya to replace Swengel as guardian.97
On September 9, 1875, John Pfaffenberger sold the final parcels of real estate that J.A. and Phoebe had accumulated. Two small pieces of lot 48, Brownstown, went to Charles W. Durland and jointly to Joseph A. Stillwell and John B. Burrell for $108.33 and $108.00 respectively.96, 98
On January 16, 1870, Phebe married John Allen, a local grocer. Although John Allen was Phoebe's senior by 31 years, they had four children together, three of whom survived to adulthood. The surviving Allen children were John, Joseph and Stella.13
The Pfaffenberger children grew up in the home of John and Phoebe. Eva left home first when she married Charles J. McCreary on October 26, 1879. By the summer of 1880, both boys and Luella were living elsewhere. Theodore, then 18, was living near his uncle, Wright Vermilya, where he was working as a clerk in his uncle's dry goods store. Wright Pfaffenberger, then 17 was living with his uncle George Pfaffenberger and working on the farm. Luella, was living with her sister Eva and husband Charles in Vernon Township of Jackson County.85, 99, 136
In 1883, on November 12, Wright sold the Norman Station farm property to Leonard Hibner for $120, $5 less that J.A. had paid for it in 1859.101 Theodore married Amelia Borcherding, oldest daughter of William F. and Caroline Borcherding and step granddaughter of his uncle George Pfaffenberger, on February 24, 1884. The next year, on March 22, Viola married William J. Robertson.86 Wright married Florence Wray, daughter of Oregan and Susannah Wray of Clearspring, on August 1, 1889.88 Eva, apparently lost her first husband and married Frank Beltz in 1891.13, 164
In 1886, Theodore and Amelia, along with Amelia's sister and brother, Alice and George Borcherding, sold the remaining 40 acres of Amelia's parents estate to Theodore's uncle and Amelia's step grandfather George Pfaffenberger.102
On January 12, 1887, Phoebe's husband, John Allen died. Luella never married and died on June 5, 1902, at the age of 34 years, 6 months and 20 days.100 Phoebe lived until April 2, 1904. In her last 17 years, she had become known in Brownstown as "Aunt Phoebe." She was known for concern and care for the sick, dying and bereaved.13
Eva and Frank Beltz produced three children: Geneva M. Beltz, May 18, 1894, Arthur A. Beltz, 1897, and Gladys E. Beltz, May 1899. On February 23, 1916 Geneva was married to Theodore Groener in Indianapolis. 166 Eva was again widowed by 1920. Eva and Frank lived in Indianapolis on North California Street. The 1920 Census found Eva, Arthur and Gladys living on East Eleventh Street near the intersection of Cornell Avenue.
Wright and Florence had two children, Flora, born in 1890, and Guy, born October 29, 1892. Florence died on July 25, 1898 after a six-month illness. At the time of her death the family was affiliated with the Brownstown M. E. Church.103 Wright's circumstances are not clear, Flora and Guy were taken in by their mother's sister and her husband. The children lived with Bartholomew and Flora Dodds in Owen Township of Jackson County, Indiana until they were on their own.160, 161
Flora Married Thomas R. Johnston on May 18, 1915 and Guy married Cora Ethyl Wray May 1, 1920.109, 110Flora and Thomas had three children, William born in 1918, Mary born in 1920 and David born in 1928.Guy and Cora had a family of five; Roy (1921), Forrest (1923), Dale (1925), Carolyn (1930) and Gerald Joseph. 162, 163
Theodore and Amelia lived in Brownstown, Elwood and Indianapolis.They produced six children; Minnie, Alice, Edith, Inez, Marie and William Everett. Minnie and Inez died in infancy. William Everett, born in Elwood on May 15, 1903, died at the age of 19 years and 10 months on March 14, 1923, having never married. Alice, born February 28, 1886 in Brownstown, married John Monagle, had two children, John Monagle, Jr. and Lois Monagle. At the end of her life, Alice, resided in Alberta, British Columbia, Canada. Edith, born June 14, 1888, married her college sweetheart, Dr. William Carleton Moore, a Muncie surgeon, on August 20, 1917. Their two children were Nancy Ann Moore and Thomas Carleton Moore. Nancy became a professor of sociology at Ohio State University and Thomas followed in his father's footsteps and became a medical doctor. Both Nancy and Thomas produced five children each. Marie was also married in 1917 on September 10th to Jesse M. Baker. They had one daughter, Alice Jane, born in March 1918.13,105, 106, 107, 108, 149, 159
lthough John Andrew only lived 38 years, his industry was able to sustain his family several years after his death. His descendants have lived distinguished lives in fields ranging from agriculture to medicine.