George W. Pfaffenberger
Left - Photo of George, Upper Right - Oil Painting of George, Lower Right - Photo Louisa Cross Tonney, his wife.
According to his biographer, George Pfaffenberger's story is dominated by a life long belief and childlike faith in Jesus Christ.73George, a pioneer-farmer, set a standard for service to his friends, neighbors and family that few before or after have been able to meet. Because of the strong relationships that he established, his story far exceeds the Pfaffenberger blood lines.
Born on February 21, 1827, in or near Petzmannsberg, Bavaria, he was the third child of Andrew and Catharine. 73, 137, 146 Although all records show his name as George, there have been differences of opinion as to his full name. In 1976, Walter Pfaffenberger suggested his full name was John George Pfaffenberger.137 However; other evidence indicates that he was George William Pfaffenberger.This is further corroborated by writing on the back of a picture of George that had belonged to Connie Palmeroy that proclaimed him to be Uncle Bill Pfaffenberger.
Not much is known about his early years in Germany. George left his native Germany in late summer 1837 at the age of ten with his parents, sister and four brothers. He arrived in Philadelphia in the fall of that year. His next two to five years were spent in or near Pittsburgh, Pennsylvania. 169 In 1842, the family left Pennsylvania to settle in Jackson County. George worked on his father's farm from 1843 until he was married in 1850.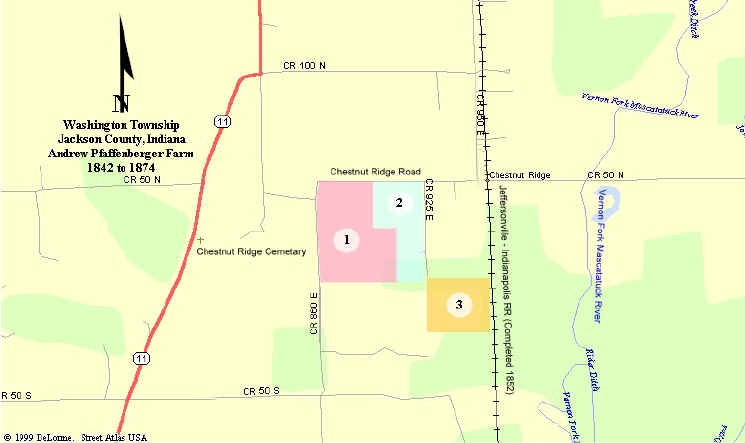 As he approached marriage, George began acquiring farmland adjacent to Andrew's farm. On March 11, 1850, he purchased 40 acres from Rizin A. Redman, County Auditor, for $37.50 (No. 3 on this Map) On April 9, he purchased 60 acres from his father for $400 (No. 2 on this Map).33 With 100 acres of prime Washington Township property, George was now ready to start his own family.
George married Louisa (Louise) Cross Tonney, a widow, on June 9, 1850.74 Louisa, the widow of Fredrick Tonney, brought four children and 80 acres of land to the marriage. At 23, George, in one day, became a married man with four children, ranging in age from eleven to one.
Louisa, born on August 3, 1818 in Hannover, Stadt Hannover, Niedersachsen, Germany, was the daughter of Charles and Caroline Cross. She migrated to the U.S. with her parents and settled, for a while in Ohio. She was married to Fredrick Tonney in Ohio in 1837 or 1838. Their first two children, Caroline and Henry were born in 1839 and 1842 respectively in Ohio. The Crosses and the Tonney's moved to Indiana in 1843 or 1844. Two other children survived that union, Frederick, born February 4, 1845 and Mina born January 4, 1849.152,153 Fredrick Tonney, Sr. died in an accident in November 1849 leaving Louisa and their four children.2, 75, 175 (Louisa's parents, Charles and Caroline were born in Germany in 1784 and 1796 respectively.)2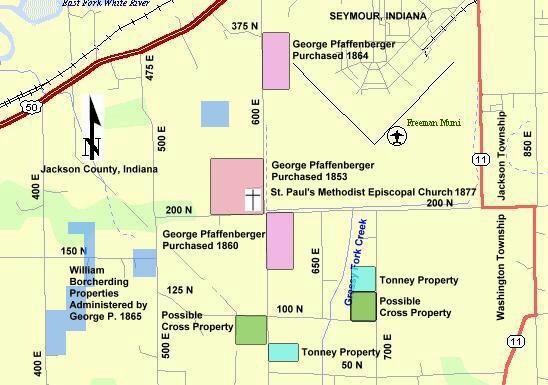 Although the precise location of their home is uncertain, it is probable that they began married life in Louisa's house since the next entry after the Pfaffenberger's in the 1850 U.S. Census was Charles and Caroline Cross. Louisa's home was very likely on one of the two Tonney properties located 2.5 miles west of Andrew's farm.49, 77 George likely spent the winters of 1851 and 1852 clearing land and the growing season farming the cleared areas. In 1852, a daughter, Catharine A., was born to George and Louisa. With their already large family growing, they decided to consolidate their farming operation.
On March 9, 1853, George purchased two adjacent 80 acre farms one mile north and one mile west of their home for $650 each. The first was acquired from William and Roxy Ann Burrell and the other from Benjamin and Mary Burrell. (Both former owners were residents of Hamilton County Ohio.) To help finance this purchase, George sold the 60 acres that he had purchased three years earlier from Andrew and the 40 acres that he had purchased from the county auditor. The total sale price was $700, which was $262.50 more than the original purchase price.12 Between this time and the summer of 1860, George established his home on this new land.75
In recording the above deed transfer, the scribe for the county may have inadvertently provided a clue to Louisa's nickname. "Know all men by these presents, that we George Peffenberger of the county and Lewizy Peffenberger wife of said George." This record also provides a copy of George's and Louisa's signature (note how the signatures are correctly spelled below).
The next year, 1854, was significant in the growth of George's and Louisa's family. George made application to the court on April 19, to be appointed guardian for Caroline, Henry, Frederick and Mina.40 Many years later a friend would say that he discharged this trust (duties as a father/guardian) fairly and impartially.73 On Christmas day of that year, their first son, Louis Charles was born.137 The next six years saw the balance of the children born. Edward was born in 1856, John G. in 1858, George W. on June 11, 1859, and Mary in 1860.75, 76
In 1859, George sold a 40 acre farm belonging to Caroline Cross, located 1.5 miles south of their home at County Roads 200 N and 600 E, to Henry Bosa for $250.43
By 1860, Charles Cross had apparently died since the 1860 U.S. Census found Caroline Cross was living with George and Louisa. In addition to two parents a grandparent, the family included ten children, three of whom would have been in diapers. The census showed one important cultural development. Six of the children had attended school the previous year.75
On November 11, 1860, George purchased 33.97 Acres from William and Mary A. Ireland for $400 and 67.95 Acres from G. V. and Lucy S. Benton for $400. This total purchase covered the west half of the northwest quarter of section 1, township 5 north, range 5 east an was located just south and east of his home place.45
A close knit German community was developing within a two mile radius of the Pfaffenberger home. The Borcherding's, included William and his wife, two daughters, Mary Doris and Caroline and three sons, William F., Frederick and Henry.33 The John F. Kasting family included John and Catharine and their children, Frederick, Henry and William. Dedrick and Mary Miller were also beginning married life in the neighborhood.75 The late 1850's and early 1860's saw the beginning of marriages within the community.
Early marriages included Mary Doris Borcherding's marriage to Fredrick H. Kasting on August 7, 1856 and Caroline Borcherding's marriage to William Albert (then migrated to Clayton County Iowa).33 On November 8, 1862, William F. Borcherding married Caroline Tonney, Louisa's oldest daughter.78
William Borcherding, Sr. died on March 30, 1862, leaving two minor children, Frederick, 12 and Henry, 10.40, 79 On January 23, 1863, the court appointed George guardian for both Frederick and Henry.60 This appointment meant that George had the responsibility of managing the estate of the Fredrick and Mina Tonney as well as the Borcherding boys and making periodic reports to the court on each ward
The year 1863 saw George's sister, Margaret, marry Fred Bush and his mother's health begin to fail. On January 25, 1864, George's mother Catharine died. Near the end of that year, on December 4, he purchased another 80 acre farm from Abraham and Eunice Love for $3,200. This property is located on the east side of County Road 600 E one half mile north of home place. 80
During the Civil War years, William F. and Caroline Borcherding were getting established in farming. However, their property was held jointly with William's brothers and sisters. By 1865, William had gotten into a position to purchase his siblings' shares of the property. Since George was the guardian of Frederick and Henry, he had to petition the court to get approval to sell the boys' share to their brother William. By May 20th, George had hired the law firm Long and Applewhite to appraise his ward's share of the property (266 acres owned jointly). The appraisal for one third part was $1,525. The court approved the amount and the property was sold to William on October 16.33, 60, 80 (See map above)
In the last four years of the 1860's, George and Louisa disposed of the remaining Tonney and Cross properties. On March 3, 1866, they sold a 40 acre parcel in section 12, T5N, R5E, to Francis F. Moenny for $1,000. The proceeds from this sale were distributed to the Tonney heirs. On that same date, they sold a 40 acre parcel in section 1 to Henry Kasting, Jr. for $800. This parcel very likely was part of the Cross property. Finally on April 8, 1869, they sold the last Tonney parcel in section 1 to Henry Kasting, Jr. for $800.49, 77 Again, the sale proceeds were distributed to the Tonney heirs.
During these late years of the 1860's, Henry and Fredrick Tonney came of age and left home. When the last parcel of Tonney property was sold in 1869, the deed record reports that the Tonney boys were living in Clay County, Illinois. Henry was married to a lady named Phoebe and Fredrick was single.77
George's step son-in-law, William Borcherding, died on December 23, 1868 leaving Caroline a widow with three small children; Amelia 6, Alice, 3, and George Colfax, 2 months. George Pfaffenberger and Dedrick Miller were appointed administrators of William's estate and Dedrick Miller was appointed guardian of the minor children.77 George and Dedrick petitioned the court for permission to sell Borcherding property on January 18, 1869. In May, appraisers Fredrick H. Kasting and Henry Schafstall appraised the 186 acres for sale. On October 5, the court had ordered the sale of the property to a Schepman and Fred Nieman. The sale transactions were finished on January 13, 1870. Two weeks later Caroline married Frederic Nieman on January 26, 1870.
On May 15, 1870, Dedrick and George were dismissed as administrators.53 The next day, May 16, 1870, George was dismissed as Mina Tonney's guardian since she had reached the age of 21.53
The 1870 U.S. Census taker visited the "community" on July 21 and 22. Entry 169 was the Kasting home, now headed by Frederick. Inhabitantincluded Frederick, 38, Mary D., 32, Dena, 6, John F., 3, William H., 6 months, John F., 62, Catharine, 66, Henry D.,35, William, 27, and Henry Borcherding, 17, Mary's brother. Entry 171 was the Thias home which included Frederick J.,27 and Caroline, 25. Entry 172 was the Dedrick Millers'. This family now included Dedrick, 44, Mary, 33, Emma, 10, Louis, 8, Frederick, 5, Caroline, 3, and "Lizzie", 10 months.79
George's and Louisa's household was entry 170. The number living in their house had diminished since the 1860 census, however, the number living under one roof was significant. The family included George, 44, Louisa, 53, Mina Tonney, 21, Catharine, 19, Louis, 17, Edward, 16, John, 14, George, 12, Mary, 10, and Caroline Cross, 74. Only Mina had not attended school within the year and only Mrs. Cross could not write.79
Louisa's daughter Caroline married Frederic Nieman on January 26, 1870. Near the end of 1871, Fredrick Borcherding became 21, and George paid him $220, the remainder of his inheritance. This went unreported until George filed his periodic report on his guardianship of Fredrick and Henry Borcherding on February 18, 1874.81
On July 28, 1872, Mina, the youngest of the Tonney children married Albert N. Meyer.82 This appears to be the significant family event during the early 1870's. However, by the end of the decade a long series of changes had taken place in George's life. His brother John Conrad died on January 29, 1875. On May 13, he completed his guardianship of Henry Borcherding.60 Louisa's daughter Caroline died on July 28, 1875. leaving five young children. The next year on March 2, 1876, his wife of 26 years, Louisa, died.29, 150 Louisa was buried in the Old Seymour Cemetery. She also is memorialized at Riverview Cemetary in Seymour, Indiana. (Note her first name was spelled correctly at the Seymour City Cemetary, but she was called "Louise" at Riverview Cemetery.) 150 Although the date is uncertain, Caroline Cross seems to have passed during this decade.
On April 7, 1877, a year after Louisa's death, George deeded one acre of his farm (part of S.E. 1/4 of Sec. 35) to the trustees of the Saint Paul's Methodist Episcopal Church. His grant was conditioned upon the use of the building erected on the site for religious worship. "However, in case the church building erected thereon shall be removed or abandoned as a place of religious worship and in that case the Real Estate herein granted shall revert to and become the property of said George Pfaffenberger his heirs or assigns." The board of trustees of the St. Paul church included Dedrick Miller, Frederick H. Kasting, Henry Schafstall, Frederick J. Thias and George Pfaffenberger.83
Three days later, April 10, 1877, George's oldest son Louis married Matilda Schuler. Louis was pastor of a church in Victoria, Texas at the time.137
The year 1880 was the beginning of a period that proved George's metal. On May 27, his older brother John died leaving a considerable estate with a significant dispute over property division. George, now Andrew's only surviving son, became administrator of his brother's estate on September 11.65 The year, however, did not present all bad news. On July 22, George's son John G. married Sarah A. Hodapp.84
The 1880 U.S. Census, reached the Pfaffenberger home on June 11. Although the names were now different, there was still a houseful. Of course George, now 53 (listed as 52) headed the household. The other inhabitants in order of age were Catharine (listed as Louisa) 28, John, 24, George, 21, Mary, 20, Wright (John Andrew's son), 17, Alice Borcherding, 14, and George Borcherding (listed as George Colfax "his middle name"), 11.85 The family structure suggests that Catharine had taken over the mother role to her younger siblings as well as to Alice and George Borcherding. She very likely received support from Mary and Alice in doing the "women's work" of the day.
In addition to being father to a large combination family, George took over his brother John's duties as guardian of their sister Margaret's children.66 The children, whose deceased father was Fred Bush, were Anna C., William, Ulysses H., George and Frederick.64 Interestingly, George was the third guardian for the Bush children. Henry Bush was the first, then John Pfaffenberger was appointed at his death and then George was appointed at John's death.
The remainder of the 1880's saw the marriage of several of George and Louisa's children and grandchildren. On February 24, 1884, Amelia Borcherding married George's nephew Theodore Pfaffenberger.86 The next year on November 26, George's daughter Mary married Joseph N. White.8 6 Edward, George's second oldest son, likely married his wife, Sophia, a girl of german parentage, in this era.143 George's youngest son, George W., married Dena Kasting, a neighbor girl and St. Paul's M. E. Church member, on September 17, 1888.87 George and Louisa's oldest child, Catharine, now known as "Aunt Kate" married Garrison G. Hancock on February 5, 1889.88
The smallest population in the Pfaffenberger home may have occurred in 1890. All the Pfaffenberger and Tonney children had married and left home. Alice Borcherding had married C. S. Mercer and left her step grandfather's house by mid 1890.176 Although the 1890 U.S. Census was destroyed in a fire, we can surmise that the residents of the Pfaffenberger household consisted of George, his son George W., his wife Dena, their first child Dora, born in July of that year, and his (step) grandson George C. Borcherding.
George lost his father, Andrew, on March 11, 1892. The remainder of the 1890's saw George begin to see the tremendous responsibilities he had assumed lifted. On September 15, 1896, Margaret and Fred Bush's youngest son George reached the age of 21. A year later on December 20, George arranged the final settlement with his nephew, George Bush. This was reported to the court on February 17, 1898.91 This was the time he began to distribute his wealth to his children.73
Shortly after the turn of the century, George was again surrounded by children. In addition to George and Dena's daughter Dora, Cornealeous (Neal) was born on May 20, 1893, Albert F. was born on July 20, 1897, George William on September 23, 1900 and Mable on January 27, 1903.90
George's grandchildren were legion. Henry Tonney had married Phoebe Durland and they had five sons; Herbert, Victor, Ferdinand, Rutherford, and George. Frederick Tonney married twice and had three sons; Francis, Frederick and Eugene. Caroline Tonney Borcherding-Nieman children have been discussed earlier in this chapter. Mina Tonney Meyer Peterman had one son, Willis Meyer, who died in his youth. Catherine appears not to have had children. Louis' children were Selma Ida, Carrie Alice, George Fredrick, Luella Cornellia, Walter Gladstone, Ocsar Gilbert, Irving Hubert and Mamie. Edward's children were Alice, Charles W., Willie E., Emma and Martha.143, 144 John's children were Carrie, Estella, Minnie, Fred J., Leroy, Alfred, John G., Robert Hodapp, Leonard, Ruth E., Lenora and Marie A. George's children were Dora, Cornelius (Neal), Albert (Dick), George (Bill) and Mabel. Mary Pfaffenberger White's children were Kenneth V., Effie, Robert P., Perry E., William M. and Josephine.151 One can imagine that the family reunion in July 1903 (picture) was a field day for children.
George died on January 30, 1911, at the age of 83 years, 11 months and 12 days. He was buried in Riverview Cemetery in Seymour, IN.