John Conrad Pfaffenberger
John Conrad Pfaffenberger was the fifth son of Andrew and Catharine. Conrad, born in Germany in 1834, migrated to the U.S. at the age of three with his family. He landed at Philadelphia on September 16, 1837, and spent the next four or five years in or near Pittsburgh, Pennsylvania. He arrived in Jackson County, Indiana in 1842 at the age eight years. Of all the Pfaffenberger children born in Germany, Conrad probably had little or no memory of the old country.
In the last seven years of the 1840's,Conrad learned to be a farmer. His grandson, Clarence, described the farming activities as clearing the forest off of the land to cultivate corn and wheat and hay.145 The 1850 U. S. Census listed Conrad, then 16, as a farmer, and neither he nor his brothers Adam and Joseph and sister Margaret had attended school within the year.2
For the younger Pfaffenberger Children, the Chestnut Ridge neighborhood had a number of families with similarly aged children. Among them was the family of Andrew and Clarrissa Cox. Since the Cox's lived at the next farm down the road, it is inconceivable to think that the Pfaffenberger and Cox children were not good friends (most of the time). The Cox's second oldest daughter, Emily, a red-head, was precisely Conrad's age.2, 145 As the children grew into adulthood, Conrad's and Emily's childhood friendship grew into a romantic relationship which resulted in their marriage on September 29, 1855.119
Following their marriage, Conrad and Emily moved to the settlement of New Farmington. The next year (1856) their first child, Newton J. was born. Two years later (1858) their daughter, Clara, arrived. The 1860 U. S. Census found this Pfaffenberger family at home in New Farmington. It is uncertain whether Conrad continued farming on his father's property or perhaps rented property since the Census did not list a value for Conrad's real estate.120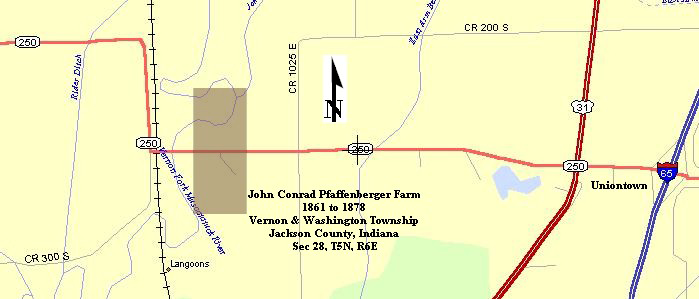 On January 31, 1861, Conrad purchased 80 acres in Vernon Township from W. A. Richardson for $800. (This parcel is now evenly divided by S.R. 250 and is located about 1/8 mile east of the Muscatatuck River.) Although approximately 20 acres were river bottoms, the balance was rolling land, 20 to 30 feet above the normal river pool. Conrad and Emily likely moved on to this property later in the year. They spent the Civil War years and the post war years farming this land.
In September 1861 Emily gave birth to daughter Catherina Adeline.
In 1866, a daughter, Sarah Ann, was born to Conrad and Emily. Sarah Ann had only reached two years of age when her mother died (1868). Emily was buried in the Pfaffenberger family plot in the Chestnut Ridge Cemetery.1 At the time of herdeath Newton was 12 and Clara was 10.
Emily's death left Conrad in the same predicament his Brother John was in 14 years earlier. It is unclear who cared for the three children the next year, however, it would have been characteristic of the times for Conrad's brothers or in-laws to have helped.
Susan R. (McCreery) Owens, who had come to Indiana by wagon in 1840, was living with her husband of three years, Johnathan, when the Civil War broke out. Johnathan joined the Union Army and was serving near Bowling Green, Ky. when he contracted typhoid. He died on November 22, 1862, leaving Susan with two children, Sarah Catherine and James Bruce.121
Susan had a strong church affiliation going back to her childhood. She first was affiliated with the United Brethren and later with the M. E. Church.121 It is quite likely that she and her children attended the same Vernon Township church as Conrad and Emily. Although their church affiliation is speculative, it is certain that she and Conrad were married on April 7, 1870.121 The new combined family had five children, Newton, 14, Clara, 12, Sarah Catherine, 11, James Bruce, 9, Sarah Ann, 4. In the next few years, three children were born to Conrad and Susan. Their names were Charles M., Maggie M. and Eunice Josephine.121
Although the decade of the 1870's started out happily with the marriage of a widower and a widow, death would prevent this new family from ever reaching equilibrium. Maggie, born in November 1872, died 15 months later in February 1874. Her body was buried in the family plot at Chestnut Ridge Cemetery.1 Before a year could pass, Conrad and Susan would be parted by death. Conrad died on January 29, 1875 (Conrad's burial place is uncertain). The string of tragediescontinued with Sarah Ann's death the next year. She was 10 years, 6 months and 8 days old at the time of her death. She was buried beside her half sister at Chestnut Ridge Cemetery.1
On February 17, 1875, two weeks after Conrad's death, John Pfaffenberger applied to the court to be the administrator of Conrad's estate.60 John filed the final settlement with the Jackson Circuit Court on December 16, 1878.122
Susan, on April 9, 1878, sold the farm to John M. and Rebecca A. Lewis.123 Ten days later Susan purchased a 23.5 acre parcel back from the Lewis's for $1.00.124 It is likely that Susan sold the farm, except for property immediately around the house (south side of the road). It appears that keeping the house became less important to Susan as the children of Conrad and Emily prepared to marry. Eight months after closing the deal with the Lewis's, Susan resold the 23.5 acres to the Lewis's for $300.124
One month later, February 16, 1879, Newton married Anna Louisa Meyer, a 14 year old of Grassy Fork Township. She was the most wonderful girl I had ever seen, Newton would tell his grandchildren years later.145 Newton and Anna likely spent the first few months of their marriage at Anna's parents home. However, on August 20, he purchased 47 acres from John H. Meyer (very likely his father-in-law) for $700. His new farm was located in Grassy Fork Township, two miles southwest of Tampico. Three days later, Anna sold her share of an 80 acre parcel to Amelia Meyer (a widow, may have been her grandmother) for $100.124
On June 20, 1879, Susan purchased 30 acres from Thomas J. McCrary for $400.125 This property was located in Vernon Township, three miles west of Austin and one half mile north of the road that is now S.R. 256. The remoteness of this piece of property would seem to be an unusual place with a widow with five children to seek. An explanation could be that the seller was her brother. Her new property was located within three miles of Adam Pfaffenberger's home, however, it was much farther by road.
The 1880 U.S. Census found that a daughter, Bertha E., had come to Newton and Anna's family in February of that year.127 Newton and Anna went on to have twelve children. When their fifth child, Clarence, was one and a half the family moved to Colorado. Many of the descendants of Newton and Anna went on to settle in California.145
On November 24, 1880, Clara was married to Samuel Baughman. This marriage left Susan with just four at home and only two that were not mostly grown.
The last property transaction for Susan in the 1800's occured on October 2, 1882, when she sold 20 acres on the south edge of Crothersville to William H. Thomas for $225.128 This property likely came to her through inheritance.
Charles M., known as "Charlie" died on August 15, 1896, at the age of 25.129 Three years later, October 22, 1896, Eunice Josephine was married to Albert N. Hawn.130 Susan lived to reach 83 years, 6 months and 29 days. She died on April 8, 1922, and was buried in Crothersville Cemetery. Her obituary writer stated, "She was both a lovely and a lovable woman, gentle an unassuming by nature: a most devoted mother, a good kind neighbor, always willing in her younger days to lend a helping hand." 121