Andrew Pfaffenberger
Adventurer, pioneer, immigrant, shoemaker and farmer are words that can be used to describe Andrew Pfaffenberger. Born in the kingdom of Prussia on March 21, 1798, Andrew grew up, married and began raising a family in Petzmannsberg, Bavaria. 1, 146 On July 26, 1837, at the age of 39, he and his family packed their belongings in two chests, boarded the passenger ship Grafton, and sailed for Philadelphia, to begin a bold journey that ended in 1842 in Washington Township of Jackson County, Indiana.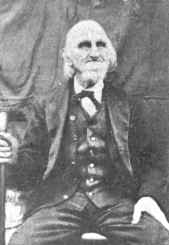 Not much is known about Andrew's early years in Germany. However, there is evidence that implies that he may had a brother and that he learned a trade (shoemaker). 2, 146 Although the date is uncertain, Andrew was likely married in the 1818 to 1820 time frame.
His wife, Catharine (Krupp), was born in Prussia on November 24, 1796. 1 Andrew and Catharine resided in or near Petzmannsberg, which lies just north and west of Kulmbach. 3, 146 (Kulmbach is a small Bavarian community about 30 miles east of the western most part of the Czech Republic.)
Before leaving Bavaria, Andrew and Catharine had become parents of six children; John (November 4, 1821), Elizabeth (May 11, 1824), George (February 18, 1827), John Andrew (1829), Adam (March 15, 1832) and John Conrad (1834).
On July 26, 1837, Andrew, Catharine and their children departed for the United States. They arrived in Philadelphia, Pennsylvania on September 16, 1837. 4, 146 It is likely that this family had prearranged a place to temporarily stay since Catharine was six months pregnant when they reached port. It is not unreasonable to think that relatives who had preceded them to the United States met them when they arrived. (The earliest documented arrival of a Pfaffenberger family to the U.S. is 1733.)5 Joseph was born on December 19, 1837, in Pennsylvania. 1, 2
Andrew and Catharine settled temporarily in Pittsburgh, Pennsylvania before moving on to Jackson County, Indiana. 169, 177 Their second daughter, Margaret, was born in Pittsburgh in 1840. 2,169 One newspaper account suggests that the family arrived in Jackson County in 1840, however, Andrew did not purchase property in Jackson County until late 1842.

On December 28, 1842, Andrew purchased 100 acres in Washington Township from Thomas and Rachael Adams for $500. 6 This property fronted by Chestnut Ridge Road and C.R. 860, No. 1 on the map below. Although close to the Vernon Fork of the Muscatatuck River, this property was high enough to be free of flooding. The view from the northwest corner of the property is a rolling hill area, reminiscent of Bavaria.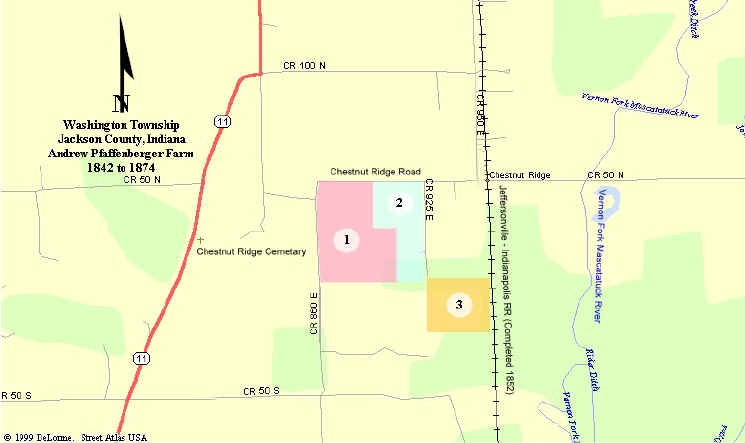 His oldest son, John, was married to Margaret Arthur on March 3, 1844
The year 1846, was significant in life of the Andrew Pfaffenberger family. On March 2, Andrew and John became citizens of the United States by taking the oath of citizenship in Jackson Circuit Court. On December 19, Andrew expanded his property by purchasing sixty acres immediately east of his farm from Jamis M. and Mary Love for $350 (This property lies south of Chestnut Ridge Road, No. 2 on the map in this chapter.)8 Finally, his first grandson, William H., was born to John and Margaret.
In the years between 1846 and 1850, his son John lost his first wife and married Mary M. Secres on April 16, 1848. His daughter, Elizabeth, married John Deal on August 17, 1847. 138 Anticipating, his approaching June wedding, George purchased sixty acres from Andrew (the same property Andrew acquired four years earlier) on April 9, 1850.9 The number of Andrew and Catharine's grandchildren vaulted from one to five when George married Louise Cross Tonney on June 9, 1850.10 The 1850 U.S. Census reached Andrew and Catharine on September 17. While Andrew listed himself as a shoemaker, he listed his sons Adam and (John) Conrad as farmers. Joseph and Margaret, now 13 and 10 were still at home. John Andrew, 21, was living in Brownstown with Gilbert B. and Margaret Durland.2
On March 24, 1851, Andrew purchased lot 19 in the Town of Rockford from his son John for $200. 11 The purpose of this purchase is unclear, however, it is well to note that at the time Rockford was the closest town since the first lots of Seymour would not be platted for another 13 months.
On March 14, 1853, Andrew purchased a 100-acre tract from his son George for $700. 12 This land included the 60 acres he sold to George (No. 2 on map above) as well as 40 acres that George had purchased from another party three years earlier (No. 3 on map above).
In 1855, both John Andrew and John Conrad were married. John Andrew was married to Phoebe B. Vermilya on June 21 and John Conrad married a neighbor girl, Emily Cox, on September 29. 13
The next year he sold his lot in Rockford to Lucinda B. Tuell for $100, a $100 loss.15 (This could be a signal of declining property values in Rockford as Seymour was being established.)
The last known significant event for Andrew and Catharine in the 1850's was the marriage of their son Adam to Sarah Ann Wilson of Vienna Township, Scott County, Indiana in 1859.16, 17 (The exact marriage date has not been established, but Sarah's age of 17 with a seven month old child in the 1860 census would indicate a very recent marriage.)
Andrew and Catharine entered the 1860's with only their American born children Joseph and Margaret still at home. However, the 1860 census indicates that they may have been temporarily raising their grandsons William and Wilbur Pfaffenberger, ages 14 and 9 respectively. 18 (William and Wilbur, sons of John, may have been raised mostly by Andrew and Catharine since John's second wife died in 1854 and he didn't remarry until the mid 1860's.)
Although War hostilities began on April 12, 1861, when confederate troops fired on Fort Sumter, the Civil War did not reach the Pfaffenberger home until August 20, 1862, when Companies E, F, G, and K of the 67th Regiment were mustered in to service at Brownstown. 19 Joseph joined Company G of the Seymour vicinity. On September 14, Company G engaged in battle with an advance of General Bragg's army. The regiment suffered a defeat resulting in 43 casualties in its first outing. It is not clear if Joseph was among the wounded or contracted a disease after enlisting, but he died on December 3, 1862, in Indianapolis and was buried in Chestnut Ridge Cemetery. 1
The next year (1863) may have been a better year for Andrew and Catharine. On October 1, their youngest child, Margaret, was married to Fredrick Bush. 20 However, this joy was undoubtedly short lived as Catharine died on January 25, 1864.1
In August of 1865, Andrew sold 40 acres of his farm to his son-in-law Fredrick Bush for $400 (No. 3 on the map).
Death visited Andrew's family again in 1867, when his son John Andrew died on May 14, leaving a widow and six minor children. 13 While the loss of two sons and his wife in the span of five years undoubtedly caused him grief, it appears that he was able to recover and continued to thrive.
On June 19, 1868, at the age of 70, he married Elizabeth Schernie (may not be exact spelling of her last name), age 56, and moved to Rockford to live near his son John. 21, 22 The 1870 census records indicate that Elizabeth was born in Prussia, however, little else is know about her.
His new home in Rockford was also close to a George and Catharine Pfaffenberger, who migrated to the United States in 1853 and settled in Rockford. 5 On September 4, 1874, Andrew sold the remainder of his farm to James K. Green for $3,500.23
The 1880 US Census found Andrew, now 82, living with his daughter Margaret and her family on South Walnut Street in Seymour. He was listed as "boarder." Margaret, a widow with five children ranging from 15 to 3 years of age, was likely also looking after her father.
All that is documented beyond this point is the transfer of 80 acres to Fred Neiman on September 2, 1887. 24 Although the source of this land is uncertain, this property appears to part of the William Borcherding estate that his son George and Dedrick Miller administered.
Andrew lived long enough to mourn the loss of three more of his sons and witness the marriage of many of his grandchildren. On January 29, 1875, John Conrad died, widowing his second wife with a large combined family. 25 Then on May 27, 1880, his oldest son John died leaving his third wife with two minor children. 3 Finally, Adam died the following year on March 30, 1881.26
Andrew died on March 11, 1892, reaching the age of 93 years, 11 months and 21 days.27 He was buried in Chestnut Ridge Cemetery beside his wife Catharine, his son Joseph and John Conrad's first wife, Emily.
This narrative was first written in the mid-1990's but new details have emerged and are included in this presentation.